There are lots of things going on here at Collecting Smiles HQ, and I wanted to share some of that with you. Lately, we've been really focusing on getting an update for Colors! 3D out for the Nintendo 3DS, and I wanted to talk a little bit about that, but before we go into that I also wanted to mention:
Colors! is now available for PlayStation Vita!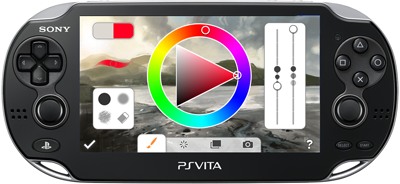 We are still holding off on the official announcement as due to a snag: the demo version did not go up on the PlayStation Store as it was meant to. It looks like that will be corrected on Tuesday the 20th, but if you already know you want it, it's in the store for you to grab for $6.99. Let us know what you think about it!
We are also getting very close to pushing out Colors! for Android. Just a little bit of bug-fixing here and there, and you should be able to get Colors! on your favorite phone which in some shapes even comes with a pressure-sensitive stylus.
Also on the horizon is a major update to Colors! for iPhone and iPad (with active stylus support) as well as a Windows 8 version which you can already grab as a free App Preview in the Windows 8 Store.
But now on to what I've promised you: some long-overdue news on the Colors! 3D update. I know we haven't really said much about it other than mentioned we would do one shortly after the Colors! 3D launch. Of course, we were absolutely blown away with the reception of Colors! 3D, and we had to spend a lot of time handling the great influx of new users and paintings in the gallery. We pretty much had to rewrite the gallery code from scratch to deal with things (over 500 000 paintings!).
These many new paintings every day also highlighted some major problems with the gallery (which honestly wasn't really designed with that in mind). And that will be the primary problem for us to solve with the Colors! 3D update – to radically improve the Colors! Gallery experience. You will of course see some improvements to the offline side as well (specifically some fixes to bugs that I know have frustrated some of you), but the gallery will see some major changes, and here's the first one:

This is a work-in-progress version of the artist's screen, and shows one of the major new features: Followers. Followers is something you should be familiar with from services like Twitter and Instagram, and we feel that that approach was best way we could allow you to customize the Colors! Gallery browsing experience. If you find an artist that you like, you can just hit "follow artist" and his/her paintings will show up on the gallery's front page. With this addition, we've also chosen to make your "favorites" (now renamed to "liked paintings" to make things clearer), public. This gives you a new way to discover paintings where you can drop in and see what your friends, or other artist's you respect, have found and liked.
And that little thing in the bottom left corner? That is what we call filters, which will play a very important role with finding a good solution for the divided opinions in the community regarding tracing. But I will talk more about that in the next blog post in about a week!
Jens
The Colors! 3D update for Nintendo 3DS will be a free update that you will be able to download from the eShop. There is no set release-date, but our goal is to get it out before the end of the year. It might be tight though!