Rorschach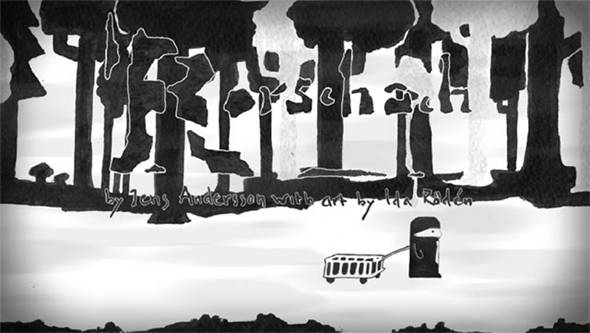 Rorschach is a detective-adventure for PC and PSP where you play a small person that has been called to an asylum
where the chief doctor has been brutally murdered. The asylum is filled with weird and colorful people that has the
information you need, but in Rorschach there are no predefined questions. Everything that is said can also
be used as a question on any person in the game. You'll need to make friends, manipulate and confront people
to find their dark secrets and only then will you be able to find out who the murderer is and why the he did it.
Status
In development
Feedback is appreciated here
Download
(Hardware accelerated PC with Windows XP required)
(Homebrew enabled PSP required)
News
August 4, 2008 – Rorschach on display at FILE Electronic Language International Festival in Sao Paolo, Brazil
October 29, 2007 - Rorschach version 0.91 for PSP was released for download
September 26, 2007 - Rorschach version 0.9 for PC was released for download
June 25, 2007 - An article about Rorschach was published in Level7 magazine that was released today.
May 03, 2007 - Rorschach will be shown once again at the M.A.D.E festival in Umeå, Sweden 9-12 May.
May 03, 2007 Rorschach was shown in a brand new display at Öppen Hus at Umeå Konsthögskola 28-29 April.
April 1, 2007 Rorschach is being shown in playable form at Broströms Kafé in Uppsala, Sweden 3-28 March.
Known issues (PC)
- Memory leak on certain graphics cards making the game randomly crash
- Wrong aspect on wide-screens
Known issues (PSP)
- Music sometimes doesn't loop
Screenshots
Credits
Created by Jens Andersson
Art by Ida Rödén
Music was blatantly ripped off the movie Oldboy and was intended as a placeholder
Thanks to Mattias Snygg, Mikael Säker, Anders Backman, Jim van Asperén and all playtesters.
Using pspsdk, pnglib, zlib & tinyxml
Copyright 2007, Collecting Smiles