Collecting Smiles is an independent developer based in Stockholm, Sweden. Collecting Smiles was founded by Jens Andersson in 2007, while on sabbatical from his dual role as Creative and Engineering Lead at Starbreeze Studios in Sweden. He used Collecting Smiles to experiment with new gameplay types and share his findings with the gaming community.
Today, Collecting Smiles has a simple mission — use experimentation to create fresh new interactive experiences and offer new outlets for people's creativity.
Contact
info@collectingsmiles.com
Collecting Smiles, Folkskolegatan 22C, 117 35 Stockholm, Sweden
About Jens Andersson
Jens Andersson is a game-designer and programmer working in the games-industry. Educated by the underground demo-scene as a member of groups like Yodel and TBL, Jens became one of the founding members of Swedish game developer Starbreeze in 1998. There he held multiple key roles within design and programming as well a seat at Starbreeze's steering board. In 2009, Jens moved to the US to join LucasArts where he worked as a Lead Designer. After some time in the house of Star Wars, he decided to fully commit to Collecting Smiles and set up office in San Francisco as a single-man game developer. Here he developed and self-published Colors! 3D for Nintendo 3DS, which ended up being the a top-seller and the Metacritic's 3DS Game of the Year. In 2013 Jens co-founded another developer, Villa Gorilla in Stockholm Sweden, to work on the game Yoku's Island Express which was released in 2018 and won a BAFTA for Best Debut.
Key accomplishments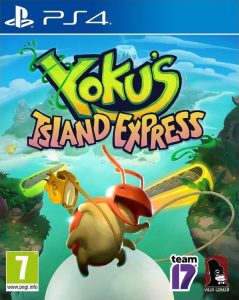 2018, Yoku's Island Express, Designed and programmed the open-world pinball game for Nintendo Switch, Xbox One, PlayStation 4 and PC.

2012, Colors! 3D, Designed and developed the painting app for Nintendo 3DS, along with Colors! for other platforms and the online gallery. Colors! 3D was the highest rated Nintendo 3DS Game on Metacritic in 2012.
2007, The Darkness, Lead Designer on the first-person Action/Adventure for Xbox 360 and PlayStation 3.
2004, The Chronicles of Riddick: Escape from Butcher Bay, Lead Game Designer and Lead Game Programmer on the first-person Action/Adventure for Xbox and PC.
.
.
Selected press and appearances
May 2018, GamesIndustry.biz, Interview about Indie development
October 2017, Speaker at IndieCade in Los Angeles, US, How Tools can drive Design
April 2012, Siliconera, The Future Of Colors! And Colors! 3D
May 2008, Speaker at Nordic Game in Malmö, Sweden, The development of The Darkness
February 2008, Edge Online, Honored with spot 72 of the Hot 100 Game Developers of 2008
February 2008, Modojo, Interview about Rorschach, homebrew and Collecting Smiles
January 2007, Speaker at Future Film Festival in Bologna, Italy, Discussing The Darkness
September 2006, GTtv, Video-interview about The Darkness
Mobygames, profile of Jens Andersson